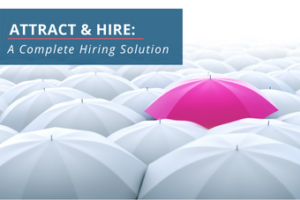 It's still a hot marketplace for those looking for a new or better job.  So your company needs to stand out from the others to not only hire the right candidate, but to find them in the first place! Commonwealth Payroll & HR has the solution.  Register today for our LIVE webinar to get an overview of our complete hiring solution – ATTRACT & HIRE.  This powerful tool will streamline your hiring process, allow you to post to hundreds of job boards with a single click, reduce hiring time and cost, attract better candidates, but more importantly – create an easy and seamless applicant experience for your dream candidate!
ATTRACT & HIRE:  AN OVERVIEW OF OUR COMPLETE HIRING SOLUTION
Join us January 17 at 1:00pm EST for an overview of Attract & Hire and to learn more about how we can help you attract and retain the best talent — faster, easier and at a lower cost!
This session has ended. A webinar recording will be posted here shortly.