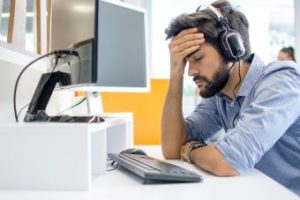 When your employees don't feel well, they don't do their best work. You wouldn't expect someone battling the flu or dealing with a broken limb to be at their most productive. Mental health challenges are just as detrimental to productivity, though they're easier for employees to hide.
Employee mental health is an issue that affects not just your individual team members, but ultimately your bottom line—which is part of the reason why the coronavirus pandemic has been so tough for employers. Though you can't singlehandedly fix things for your employees, you're uniquely positioned to provide a kind of support that only an employer can.
Factors Affecting Employee Mental Health Right Now
There's no debate about whether or not COVID has been bad for mental health. We know that it has. Rates of anxiety and depression have skyrocketed among people of all ages. One report done by the CDC in June found that the number of Americans experiencing depressive disorder had quadrupled between 2019 and 2020, from 6.5% to 24.3%.
While we're all experiencing stress related to the pandemic, a few major factors have made this period especially challenging for your employees.
• Isolation: Even if they live with family members or roommates, many remote employees are really struggling with loneliness right now. We're all missing the social interactions that are part of normal life, like making small talk with coworkers and eating meals with friends. People who transitioned to remote work because of the pandemic may be missing the social element of their old routines. Even people who worked from home prior to the pandemic are experiencing isolation from their normal support systems.
• Family Stress: Parents of young kids have experienced a particular kind of pandemic misery. In an NPR poll of 3,500 Americans in summer 2020, 87% of respondents with kids under 18 reported they were having serious problems with caring for their kids. Your employees who are parents have probably spent the better part of a year trying to balance their workloads with full-time childcare, and in many cases, supervising kids who are struggling with remote school. Kids are experiencing their own mental health crises, which in turn creates more stress and anxiety for parents. Plus, employees are worried about family members who are healthcare workers, their elderly relatives, and any other loved ones who are at especially high risk for getting sick.
• Preexisting Mental Health Conditions: Unsurprisingly, many people who have existing mental health conditions are experiencing more and worsening symptoms during the pandemic. Stress exacerbates many conditions, and shutdowns have also kept people from getting the treatment and medications they need.
• Substance Use: The pandemic has been extraordinarily difficult for a lot of people with substance use disorders. Social support is a key factor in recovery from an SUD. You may have employees in recovery who are struggling with relapse due to the combination of isolation and increased stress. Substance use is also newly affecting people who may not have struggled with it in the past. In the CDC report, 13.3 percent of respondents said they had started or increased substance use as a way to cope with the pandemic.
• Money Stress: Financial anxiety has almost certainly crippled some of your employees during 2020. Per the NPR poll, nearly half of American households (46%) reported having had serious financial problems since the pandemic began. In households that include someone who had COVID, that number rises to 64%. Families that include workers who were furloughed or laid off may have exhausted their savings this year. And even if your business is doing well, some of your team members are likely worried about themselves and/or their spouses losing their jobs or becoming too sick to work.
• General Uncertainty: As 2020 has made starkly clear, the future is unpredictable. The fact that there's no timetable for when the crisis will truly end means it's hard to plan ahead. Plus, the threat of getting sick at any time has forced many people to grapple with big, existential fears around mortality. There are just so many what-ifs with no real answers.
What Employers Can Do
Supporting employee mental health requires employers to strike a tricky balance. It's inappropriate to expect employees to divulge personal information about their mental health and topics like substance abuse. It's also not the employer's role to solve or treat employees' mental health challenges. What you can do is communicate your support, provide useful resources and make sure your employees can access those resources.
• Acknowledge the Challenges: Sometimes employees suffer in silence because they don't think their employers take mental health seriously, or because they're afraid they won't advance in their careers if their employers knew about their mental health issues. Openly acknowledging these topics tells your employees that you want to walk the walk around mental health support. This could be as simple as writing a memo saying you know that people are struggling with depression, anxiety and other mental health conditions right now, and that you want to support them in whatever way you can.
• Encourage Social Connection: At least during the summer we could safely gather with friends and coworkers outdoors. As cold weather and short days keep people indoors, your employees need more social support than ever before. Maybe that means reinstating the virtual happy hours that you did at the start of the pandemic, or organizing a virtual escape room team-building challenge over Zoom. Smaller teams may want to start doing daily Zoom 10-minute social calls where no work talk is allowed, just to give people a chance to connect.
• Advertise Your EAP: Assuming you have an employee assistance program, are you confident your employees know about it? Many employees don't know about the resources their employers provide around counseling and mental health support. Make sure everyone knows what kind of resources are available as part of their benefits.
• Communicate Your Flexibility: It's one thing to say you support employee mental health, and another to put that support into action. Some workers won't take the time off they need because they're afraid of getting in trouble or being judged. One thing you can do is strive to give employees as much flexibility around their work hours as possible. Are they allowed to take time off in the middle of the day for a therapy appointment, or to take a walk around the block? If so, communicate that. Employees may be too nervous to ask for the flexibility they really need.
There's a lot that's outside your control right now, but proactively supporting employee mental health is somehing you can do.