An employer's reality is simple when it comes to payroll- it's expected to be accurate 100% of the time.  Therefore, it's critical to implement an accurate, reliable and consistent process that allows you to 'set and forget' wage and hour rules, pay policies, eligibility rules, and who they apply to.  
Move beyond outdated software, time sheets and spreadsheets. Process employee time and attendance with grace and efficiency using a system that's built right into payroll and HR.
Improve your payroll process by accurately tracking, managing and processing time, labor and attendance across your entire workforce, even for those who are remote or mobile.
In today's employment environment, different rules apply to different employees based on their work locations and their employment classification. Commonwealth's Time and Attendance solutions reduce the costly errors and reputational damage often caused by human interpretation.
Workforce Scheduling
Effective workforce scheduling is vital to an organization's success. Incorporating a solution that keeps your business running smoothly doesn't just impact your bottom line—it impacts your people. When you make work life easier for your employees, it can pay off across every operational function. With isolved Scheduling, you can set rules for assigning shifts across employees; determine who is responsible to work each shift; quickly view when employees are unavailable to work; notify employees when schedules are created; manage shift and coverage requests and more.
Commonwealth's isolved Workforce Scheduling addresses even more complex employee scheduling requirements and allows you to:
Set customizable values for how employees are counted  per shift—number of work hours, occupancy percentage, number of beds

Build staffing rules around employee count types and  number needed per day

Quickly add employees to shifts from a graphical  scheduler view

Assign employees directly to a shift versus a larger role

Send notifications to employees who are eligible to fill  open shifts

Predict staffing requirements across employee groups and time periods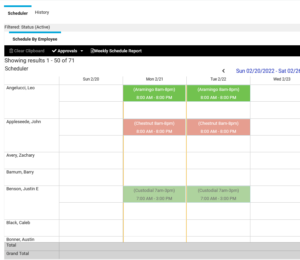 Options & Add-Ons
Geofencing
If you have employees who are mobile or working at specific locations, it's important to know they are punching from the actual work location.
Using the gps settings of your employee's mobile device, each punch is located and tested as to whether or not it is 'inside the fence'- the line drawn on a map around the work location as set by the employer.
Depending on your settings, you can lockout employees punching 'outside the fence' or simply be alerted when it happens.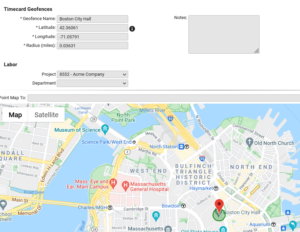 Punch Imports 
It's not unusual for our clients to deploy ERP (Enterprise Resource Planning) or POS (Point of Sale) systems that collect employee time data used for job costing, project management or billing.  
As a result, it's useful for Commonwealth to exported punches from those systems to apply to our timekeeping and attendance policy rules that ultimately flow through to payroll and back into the accounting systems.
Pulling data from other systems and importing it is a competence and absolute necessity for many of our employers.  Our systems can handle this with ease. 

Project-Based Timekeeping
Many employers find themselves with a need to track employee time based on projects, clients, or tasks.  Doing this well requires a consistent method employees punching in and out, and allowing them the ability to charge their time to only the projects they may work on.
By leveraging an array of fixed and mobile tools to capture employee time, employers can provide a method for each employee to accurately track their job time. No matter whether that employee is doing piecework in a manufacturing environment, a crew working on a remote jobsite or a technician in a truck completing customer service calls, Commonwealth's project-based timekeeping solution offers a fit for your diverse needs.