Comparing the Family and Medical Leave Act (FMLA) and the Americans with Disabilities Act (ADA) is a little like comparing apples and oranges. These two laws work very differently. The FMLA allows workers to take unpaid leave to tend to their own medical needs, or the needs of close family members. The ADA has a much broader scope. It's a civil rights law that encompasses a wide range of protections for people with disabilities, some of which apply directly to employers.
But like apples and oranges, they share some basic traits. FMLA and ADA provisions both help employees in vulnerable situations to protect their jobs. There's no such thing as "ADA leave," but this law may come into play when managing employee leave requests.
What the ADA Does
Specifically, the ADA protects workers who have "a physical or mental impairment that substantially limits one or more major life activities, a person who has a history or record of such an impairment, or a person who is perceived by others as having such an impairment." ("Life activities" include essential functions like walking, breathing, seeing, hearing, speaking and lifting.) 
The ADA is comprised of five sections, called titles. Some sections apply to certain businesses but not to others. For example, Title III requires businesses that serve the public (like restaurants and stores) to comply with certain accessibility standards when building or renovating facilities. Title 1 addresses employment, so this is the section that all employers should understand. Its provisions, which protect disabled workers from discrimination, only apply to employers with 15 or more employees, local governments, employment agencies and labor organizations.  
Title 1 requires covered employers to make "reasonable accommodations" for employees with disabilities, as long as those employees can perform their essential job functions either with or without accommodations. What can be tricky for employers is the vagueness of the concept of "reasonable accommodations." Some accommodation requests are straightforward and easy for the employer to adopt. An employee who is unable to stand for long periods may be given a chair during work events where employees generally stand, for example.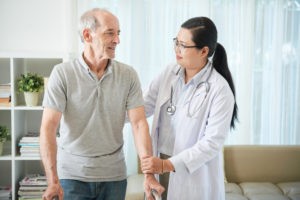 But what about when a disabled employee needs to take a week off for a medical procedure and they have no paid leave option? This is where the FMLA and the ADA often overlap. Allowing a disabled employee to take leave for the purpose of seeking medical care would generally be a reasonable accommodation under the ADA. The employer would be compelled to let the employee take unpaid leave and hold the person's job until they return – unless that person's absence would cause an undue hardship on the employer. How undue hardship is defined, and how employers are allowed to respond to it, can be complicated and depends on situational specifics. It's illegal for the employer to retaliate for an employee requiring reasonable accommodations.
What the FMLA Does
While any disabled employee working for a covered employer is covered by the ADA, the FMLA has different eligibility requirements. To qualify for FMLA benefits, an employee must work for a covered employer for at least 12 months and have completed at least 1,250 hours of work for the employer in the preceding 12-month period. The employee must also work at a location where the employer has at least 50 employees within a 75-mile radius. 
Covered employers are those that have at least 50 employees during at least 20 workweeks. Public agencies and both private and public schools are automatically covered, regardless of the number of employees.
Unlike the ADA, the protections afforded by the FMLA are clearly defined. It allows covered employees to take unpaid leave of up to 12 weeks per year to tend to their own serious health conditions or to provide care for family members under certain conditions. Covered employees may also take up to 26 weeks of leave to care for close family members who are hurt while working as service members. Although an employee taking FMLA leave don't have to be paid for that time, the law requires the employer to hold the worker's job and continue to provide health insurance coverage throughout the leave period. It's illegal for the employer to retaliate for an employee taking FMLA leave. 
For employees who qualify for FMLA leave, the ADA isn't necessarily relevant in determining whether or not the employer is required to approve the leave and protect the worker's job. But for disabled employees who aren't eligible for FMLA leave, the ADA's protections could come into play.
ADA:
Covered employers have 15+ employees

Applies to employees who have physical or mental impairments that limit one or more life activities

Requires employers to provide "reasonable accommodations" for disabled employees (which may include unpaid leave), but also covers a broad range of protections for disabled people

Employer loophole for undue hardship
FMLA:
Covered employers have 50+ employees OR are public agencies or schools of any size

Applies to employees who have worked for at least one year and have completed 1,250 hours for their employers in the previous 12 months

Allows for employees to take up to 12 weeks of unpaid leave related to family and medical reasons (26 weeks to care for injured service member)

Employer may require employee to take leave concurrently with paid leave like PTO or paid sick time
How the ADA and the FMLA overlap and differ is a complicated subject that might affect how your business manages employee leave. We'll be discussing this issue and more at our free webinar Leave of Absence Basics: Navigating the FLMA on Tuesday, September 17 at 12:00 PM EST. If you have questions specific to your business, contact us today. We're here to help!