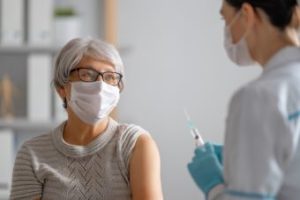 With constantly changing information on COVID-19 vaccines, you may be feeling lost on how to approach vaccinations in your workplace. Currently, the Pfizer and Modera COVID-19 Vaccines, recently joined by the Janssen COVID-19 Vaccine, are approved for use under an Emergency Use Authorization (EUA). But can you legally require employees to get vaccinated? If so, should you? Is it best to encourage employees to get vaccinated instead? If your company is considering requiring or encouraging employees to get vaccinated, there are ethical and legal considerations to take into account.
Legality of Workplace Vaccination Mandates
While the EUA expressly states that individuals have the right to refuse the vaccine, it leaves a bit to be desired in terms of employee guidance. The Equal Employment Opportunity Commission (EEOC) is treating the vaccine similarly to coronavirus testing. Just as employers have been able to mandate testing and proof of testing, the EEOC's guidance states employers can also mandate the vaccine and proof of the same under the EUA, as long as they comply with federal laws. Employers may not require vaccinations for employees with certain medical conditions or religious objections. Instead, they must accommodate these employees by mandating extra personal protective equipment (PPE) or segregated or remote work performance.
It's true, the EUA does not guarantee an individual's right to work, but it can still feel like shaky ground for employers. The COVID-19 vaccine hasn't been on the scene long enough for there to be an established legal precedent, or court ruling, to guide employers in making the decision. According to Dr. Arthur Caplan, Professor of Bioethics at NYU Langone Medical Center and Head of the Division of Ethics at NYU Grossman School of Medicine, "An EUA vaccine would never hold up to a legal challenge." Why? Basically, these vaccines are still experimental drugs that the FDA approved for emergency use, which isn't the same as an FDA-approved, licensed vaccine. Should the vaccines become licensed, the law and precedent are much clearer and allows employers, schools, and even states to mandate vaccines.
Balancing Ethical and Legal Concerns
Regardless of current legal guidance, employers also have to consider whether or not they SHOULD mandate vaccines. The emergency approval means there hasn't been the same level of testing required for the vaccine to be licensed. You likely employ individuals from all walks of life with differing opinions and personal fears. Is it right to overlook the individual element in favor of the masses? Ethically, you may be wondering what could happen if you mandate employee vaccinations and one of your employees has a reaction or medical issue following the vaccination. Legally, you may be concerned with related workers' compensation liability. Conversely, you may be wondering about ethical and legal issues if you do not mandate employee vaccinations and an employee or customer contracts COVID-19 from an infected employee. Since the ethics and legality are indeed more grey than black and white, it may be best for employers to encourage rather than require vaccination at this point.
Encouraging COVID-19 Vaccination
If you choose to encourage employees and still have those who refuse the vaccine, you are still permitted to require extra layers of PPE, separate workspaces, or for them to perform their work remotely. Employers should consider providing employees with educational resources to assuage certain fears about the vaccine's safety. You consider offering time off for recovery following the vaccination, as some fear may stem from anticipated side effects. Some employers have implemented financial incentives as a way to encourage employees to get vaccinated as well. Just as they would a gym membership subsidy, these employers consider the expense a health-related incentive that promotes employee health. Ultimately, you have some leeway as you decide the best way to handle the process based on your circumstances. But, at least until the vaccine is licensed, creative encouragement may be the best ethical and legal route to promoting a vaccinated workforce.
Learn More from the Experts!
In partnership with our HR content partner, Mammoth HR, we presented "Covid-19 Vaccinations and Your Workplace" on February 18, 2021. In this webinar, Kara Govro, JD, SPHR, and Senior Legal Analyst delves deeper into what employers need to consider ahead of requiring or encouraging employees to get vaccinated. She also covers information on employees' rights to speak out against your policies and current OSHA guidance for workplace safety during the pandemic. Complete this form to receive immediate access to the session recording along with additional recordings to our most recent webinars.
Contact Commonwealth Payroll & HR
The professionals at Commonwealth are committed to keeping our clients up-to-date and compliant. As you navigate new and evolving legislation, let our professionals answer your questions; provide you with best practices; help with management and HR personnel training; assist with policy, handbook, and other documented updates; and implement the appropriate procedures. Contact us today to discuss your HR and payroll needs.
*The information provided in this article does not, and is not intended to, constitute legal advice; instead, all information is for general informational purposes only. Information in this article may not constitute the most up-to-date legal or other information. This article contains links to other third-party websites provided only for the convenience of the reader