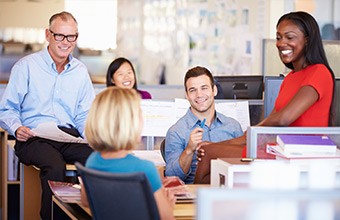 Hiring new candidates can be tedious and inefficient. New hire paperwork can become overwhelming, and keeping track of a stack of documents is not ideal. Native to iSolved, this paperless onboarding module notifies the appropriate personnel in a timely manner and takes them through all of the necessary steps, tasks and forms that are part of a proper company orientation. iSolved Onboarding will streamline and allow any New Hire to enter information directly into iSolved, avoiding multiple data entry.
Fully optimize the way you handle new hire paperwork, by eliminating it!
Read more about Onboarding:
Learn about the Onboarding module native within iSolved.
View our Infographic on the benefits of a better onboarding process
Bring in new hires easily with iSolved's Employee Onboarding