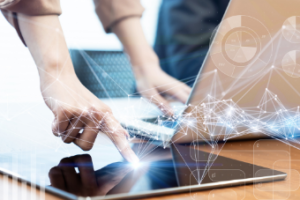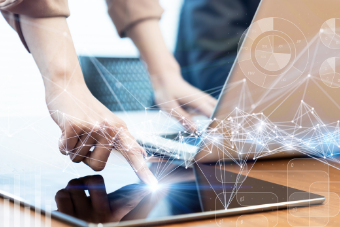 Automating business processes is the name of the game for companies looking to improve productivity, efficiency, and even their employees' happiness. According to a research study by DJS Research & Unit4, administrative and repetitive tasks account for around 69 days of the average office worker's year. For 2017, the study found the cost of lost productivity in the U.S. was nearly $2.9 trillion.
In the not-so-distant past, bringing all the different threads of employee management, including managing and rolling out employee benefit programs, into one cohesive, automated unit was generally only available as an enterprise resource. Historically, new software systems and related consulting services constituted a costly undertaking. Today, companies of all sizes can affordably partner with dedicated providers like Commonwealth Payroll & HR. We are devoted to successfully managing your HR operations, and we tailor our level of involvement to meet your needs based on your business flow. We're there as little or as much as you need us to be.
Carrier connectivity solutions help employers transform a normally paper-based and cumbersome process into one that requires little worry.
With some employees back in the workplace and many still working from home, uniformly managing and rolling out your employee benefits programs can be a real challenge. Whether you have a handful of employees or thousands, managing their enrollment data and life-change events manually is time-consuming.
Submitting data across your medical, dental, life, disability, FSA, HSA, 401(k) management, and other benefit providers' web portals requires a substantial amount of duplicate data entry. And a manual process leaves your company vulnerable to human error. Smaller companies, generally with fewer than 100 employees enrolled in a particular benefit group, are often denied access to automated Electronic Data Interchange (EDI) technologies by their individual carriers. Even for larger companies and groups, setting up an automated carrier connection can take months.
Carrier connectivity is an automated solution that reduces time and resource expenditure and the margin for error and non-compliance risks associated with manual management of employee benefit programs.
While the relationship between payroll and benefits can be complex, integrating carrier connectivity solutions can make the nuances more manageable.
Commonwealth's isolved Human Capital Management solution is engineered to not only meet your current, day-to-day needs, but to grow with your company as your business changes. isolved provides an effective employee benefit enrollment experience that ties into payroll and leverages eligibility rules to determine appropriate benefits. Your employees can spend more time on their job duties and less time dealing with forms associated with a paper-based enrollment. To see the potential cost savings for your company, take a look at our ROI calculator.
By partnering with EverythingBenefits, Commonwealth also offers a carrier connectivity add-on that significantly reduces the time it takes to build an automated connection and allows for seamless communication with over 600 carriers nationally. The add-on also uses a Smart Form solution, so manual entry isn't required, even for carriers that do not accept EDI files. Employers of all shapes and sizes can automatically and securely deliver enrollment and benefits data to carriers for open enrollments, new enrollments, terminations, and other events. Our carrier connectivity solutions are helping clients integrate automated HR and employee benefits management, so they can cut unnecessary costs and reduce risks.
Hear About It from the Experts!
On May 25, 2021, we hosted a webinar which provided an in-depth look at our HR & benefits with carrier connectivity service and why it is your solution for streamlined benefit administration. Watch the recording and then contact us to learn how Commonwealth can help you optimize your company's benefit administration and enrollment processes today!
*The information provided in this article does not, and is not intended to, constitute legal advice; instead, all information is for general informational purposes only. Information in this article may not constitute the most up-to-date legal or other information. This article contains links to other third-party websites provided only for the convenience of the reader.