This session was originally presented on March 23, 2021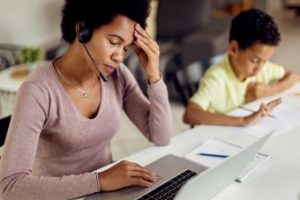 It's been a year since we all dealt with the sudden shock of everyone shifting to remote work. While we should all take some credit for accomplishing some major shifts for dealing with our new "normal," the current environment—both for work and life more broadly—is continuing to take its toll. Between endless zoom meetings, home schooling, divisive politics, and an unclear vaccine roll-out plan, we're starting to see some cracks in the facade.
In this webinar, workplace culture expert Jamie Notter will identify the current causes and symptoms of today's "pandemic fatigue". He will also offer concrete suggestions for meeting the needs of employees in both the short and long term in order to increase engagement and success.
Presenter:
Jamie Notter, Co-Founder and Growth Strategist, PROPEL
Jamie is an author, consultant, and growth strategist at PROPEL, where he helps leaders integrate culture, strategy, and execution to achieve breakthrough performance and impact. He brings twenty-five years of experience to his work designing culture-driven businesses, and has specialized along the way in areas like conflict resolution and generations. Jamie is also the co-author of three books—Humanize, When Millennials Take Over, and The Non-Obvious Guide to Employee Engagement—and holds a Master's in conflict resolution from George Mason and a certificate in Organization Development from Georgetown, where he serves as adjunct faculty.
Commonwealth Payroll & HR in partnership with PROPEL is proud to present this culture enriching event.